FRIDAY, 10/29
AS Program Presents: Delirium 8pm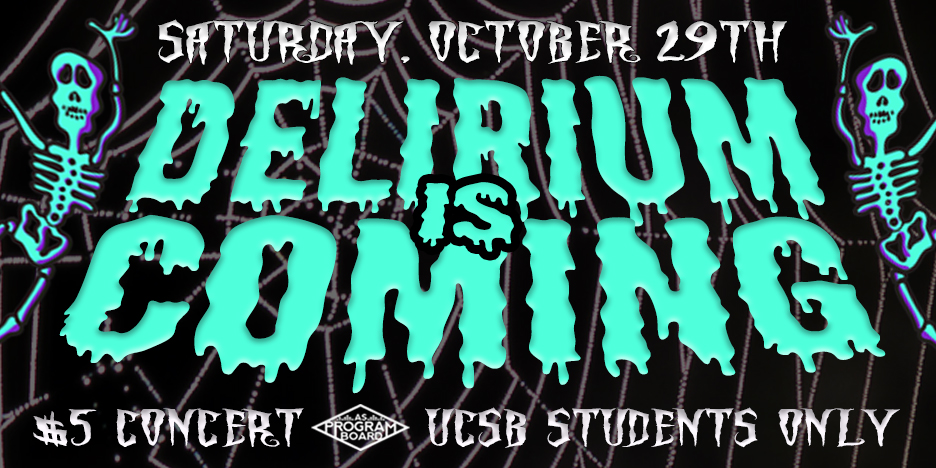 EVENT INFO:
Come out to Delirium, the annual Halloween concert brought to you by A.S. Program Board! Tickets are only $5 and go on sale Monday Oct. 24th online and at A.S. Ticket Offices!
Doors for the event are at 8:30pm, and VALID UCSB ACCESS CARDS ARE REQUIRED AT THE DOOR.
Costumes are encouraged, but we must be able to recognize faces. No masks, excessive face paint, etc.
Lost Items will be held at the A.S. Program Board office located in the MCC.
See you there!
ARTIST INFO:
Flatbush Zombies:
Is an American hip-hop group from the Flatbush section of Brooklyn, New York City, formed in 2010. The group is composed of rappers Meechy Darko, Zombie Juice and Erick Arc Elliott.
They recently performed on Jimmy Kimmel, and this is what Consequence of Soud had to say:
"the CoSigned hip-hop collective dished out two songs, "Bounce" and Trade-off" with the kind of wild energy rarely seen on the late show. The audience reciprocated accordingly (another rare instance) by getting hyped out of their minds— or "turnt", as the kids say—and I only wish I'd been there to witness it all first hand."
Check them out here!
–       https://www.youtube.com/watch?v=NwaE6UpMk5s
–       https://www.youtube.com/watch?v=kfzRXseSBIM
YG:
Is an American hip-hop recording artist from Compton, California.  According to The Fader: "YG has charted an unpredictable course to fame that few outside the West Coast saw coming. Despite a string of acclaimed street singles and mixtapes dating back to 2008, for years he was largely known to national audiences by "Toot It and Boot It," a hit made with Ty Dolla $ign. And again in March 2014 with YG's debut LP for Def Jam, My Krazy Life."
Check him out here!
–       https://www.youtube.com/watch?v=jxnWAoM9Lf4
–       https://www.youtube.com/watch?v=HkVS79y4p4Y
Haunt the Loop  4-6pm
Starts at Pardall Center and is trick or treating in downtown Isla Vista for the kids of the community.
More Info!
UCIV is a public volunteer program operated by the AS Public Safety Commission that acts as a mediator between police offers and the community. Volunteers will provide information about resources available to the community during Halloween and warn residents in violation of ordinances as an opportunity to prevent a ticket. UCIV is currently recruiting volunteers and all volunteers will receive a free meal, shirt and other swag, and the opportunity to take ownership of their community. (Hours of operation: Friday, Saturday and Monday nights – 9pm-midnight @ Pardall Center and throughout Isla Vista)
The AS Office of the External Vice President for Local Affairs will provide hydration stations and portable bathrooms at multiple locations. (Hours of operation: all weekend and Halloween)
AS Take Back the Night will be hosting a Safe Space on the second floor of the Pardall Center for anyone who may feel triggered or harassed during Halloween. (Hours of operation: Friday, Saturday and Monday nights – 9pm-1am @ Pardall Center – 2nd floor)
In addition, the AS Pardall Center will host a Chill Out Space on the first floor of the Pardall Center for anyone trying to find a mellow place to hang out. (Hours of operation: Friday, Saturday and Monday nights – 9pm-1am @ Pardall Center – 1st floor)